40 YEARS OF WOMEN IN LIFESAVING | Debbie Watson
2020 is a year filled with anniversaries for Debbie Watson.
Not only does it mark two decades since she captained Australia to water polo gold at Sydney 2000, but this year also signals 40 years since she was a member of Manly LSC's first ever female bronze medallion group.
Debbie was 15 when the announcement was made that from 1st July 1980 women could become fully-fledged surf lifesavers.
Manly's maiden female bronze squad were trained by David Laws and Ron Froggatt, consisting of Watson alongside Renee Kalajzich, Michele Kalajzich, Traci Butler, Nicole Alagich, Claire Hamilton, Melanie Hamilton, Jackie Smythe.
For the group, many of whom formed a march past team during their time in nippers, the historic bronze course was simply a "natural progression."
"I don't even know if I realised we were the first," Watson reflects.
"It was just something that we were going to do because we were old enough – the barriers were broken, not by us, but by people pushing for us to be allowed to do those things."
Debbie grew up in the tight-knit Manly community, embracing an active lifestyle from a young age that saw her sporting and social lives intertwine.
"We all went to Manly Swimming Club so after spending all Saturday at manly swim pool doing our club races, on the Sunday we would come to the beach and then do nippers," she remembers.
"We had an absolute ball doing nippers. It was very different to what it is today – we always had a handicap race one week and then a scratch handicap race the next weekend. It was just about fun and enjoyment, and you always knew you were in with a chance.
"It was a really great friendship group that we had running through that whole period."
Watson fondly looks back on her countless hours spent out in the Manly surf as a nipper.
"I'm just so lucky to have been at a such an incredible surf club with so many great mentors around," she reflects."I am just totally still in awe of the Riddington family and their incredible natural surf skill and watermanship.
"To have Max (Riddington) out the back taking us kids out there to try and teach us to catch those massive waves in and read the ocean, I was just so lucky to have been part of that."They're great memories of having a great time out on the foam nipper boards – back in those days, we'd all be out there catching waves for hours upon hours."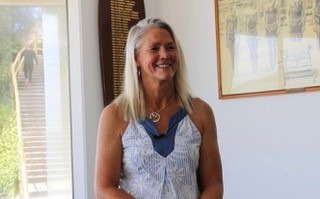 It is remarkable to consider how less than a decade earlier, women were not even allowed into surf clubs.
Yet as debate raged on behind the scenes to facilitate their official involvement, Watson and her friends were unknowingly part of a new generation who would pioneer female involvement in the lifesaving movement for years to come.
"Looking back, there definitely weren't role models for us and we didn't really think that those things (being a lifesaver) were a possibility that one day," Debbie admits.
However on the other hand, she enforces "we were treated like everyone else down here at the surf club, I never felt like there was a gender difference in how we were supported."
There are a few reasons why Watson vividly recalls her bronze assessment which took place at Collaroy Beach in November 1980, overseen by Ray Petersen.
"I was a strong swimmer at the time but wasn't a superstar by any means," she recalls.
"I remember doing my bronze at Collaroy and really struggling because we had to do the belt swim, and the beach was absolutely full of seaweed.
"Afterwards Ray (Petersen) said 'I should have told you guys to discard your belts' because by the time we dragged them back in with all the weed, there was just no rope left.
"We didn't know that was an option to discard the belt – we were just tough little things and off we went.
"I still joke about that and I still don't like Collaroy for that reason – it's too weedy!"
Watson went on to join patrol two for the 1980-81 season where they won MLSC Patrol of the Year.

"Patrolling was great fun," she remembers. "We got to come down to the beach with your friends, you had the shop across the road who sold the best hot chips and had these fantastic pinball machines in the back that we used to get to go in and play at the end."
In the years that followed, Debbie rose to prominence in the water polo world and eventually had to spend some time away from the lifesaving club as she represented her nation all over the world.
While she is no longer an active member of Manly LSC, she remains a familiar face around the area and assures that Manly is a place she will always call home.
Debbie's story is one of the many Manly LSC will share in the upcoming weeks so be sure to keep your eyes peeled on the club's website and social media channels.
If you or someone who know has a story you'd like us to tell, please get in touch by emailing chriscurulli@gmail.com
-Written by Chris Curulli