Manly are one of the strongest clubs in Australia in Lifesaving events. There are three Lifesaving events catering for members from under 14 (with Surf Rescue Certificate) to Masters competitors. We have experienced coaches in all events who fully support our teams providing them with the knowledge and skills to do well
The events consist of
FIRST AID
Each team is made up of two members of any gender who work as a team to manage realistic first aid scenarios that you may experience on the beach. There are people playing the roles of members of the public or club members who have suffered a range of injuries. We utilise realistic makeup to provide a sense of realism. The teams are judged on the approach to an accident, determination of the injuries, management of the injuries, arranging for ambulance response and patient care. Simpler scenarios are used for the younger age groups. It is an event that prepares our members for real life emergencies on the beach or in their normal day to day lives.
CHAMPION LIFESAVER
This event is an individual event to identify the all-round lifesaver. There are several sections with a maximum number of points available for each section with the winner being the competitor who has the highest number of points at the end of competition.
The sections consist of:
·         A theory multi choice question paper based on lifesaving questions taken from the current training manual
·         Resuscitation drill on a live patient up to applying the compressions
·         Resuscitation on a manikin including timing, compression effectiveness and mouth to mask resuscitation
·         A swim race
·         A board race
·         A Beach Sprint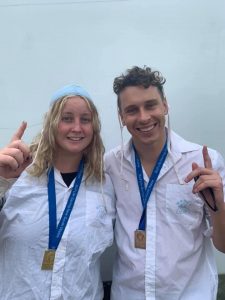 PATROL COMPETITION
This event consists of teams of 4 members for the under 17 event and 6 for open competition. The purpose of the competition is to find the team which is the most outstanding in managing all aspects of a patrol. The open event has two additional members to allow for an IRB to be used in rescues. All members of the team must hold the Advanced Resuscitation Techniques award and for open there must be a qualified IRB driver and crew.
The competition has Six sections:
A multi Choice question paper
·         Team resuscitation on alive patient and manikin using oxygen equipment and defibrillator
·         A swim event
·         A Swim, Tube, Board Rescue event
·         A patrol scenario to demonstrate their overall patrol skills in a simulated environment including rescue, first aid, resuscitation if required and the setting up of a patrol and patrol completion procedures.