WHAT'S HAPPENING AT MANLY LSC – FRIDAY 9TH DECEMBER 2022
Friday 9th December 2022
PATROL
On Patrol this weekend:
Saturday 10th December
Patrol 11 led by Lance Brooks
Patrol 12 led by Leoni Graham
Sunday 11th December
Patrol 9 led by John Thomson
Patrol 10 led by Paul Fraser
Patrol 9 are in need of some more hands on Sunday's am patrol . If you can spare some time, please come down and help out.
Don't forget to also join the Manly LSC Super Subs Facebook page!
16 NEW BRONZE HOLDERS SET TO HIT THE BEACH
Last weekend a group of 16 passed their Bronze with flying colours. Welcome to the patrol ranks. We can't wait to see you wearing the red and yellow on the beach soon.
Thanks to our amazing trainers Leoni Graham, John Zdrilic, Bec Crawford, Jules Clarkson and Sita McTavish and the amazing Manly assessors Tim Cuthbert, Victoria O'Halloran, Greg Pooley, and probationary Keinwen Shepherd.
MLSC CHRISTMAS PARTY
Please join us this Sunday 11th December from 2pm for a fun Sunday afternoon with 2 free drinks per member, food and music! Friends and Family invited.
We look forward to seeing you all there.
MLSC SPRING CLEAN 
The club is due for a spring clean and we are hoping  you can spare an hour or two next week, we would love your help.
Lunch will be provided.
Tues 13 Dec 10.30am – 2.30pm
Wed 14 Dec 10.30am – 2.30pm

Register your interest at the club or via email to Jude jude@furnissweb.com
NBC Community Engagement stall
All members are encouraged to come along to Northern Beaches Council community engagement stall about the proposed re-build on Saturday 10 Dec 22 from
11-1pm. It's great chance to tell NBC what you love about Manly LSC and what facilities you need in the proposed new building. There will be an opportunity for further member consultation and engagement in the new year. Chris Bell, Chair of the Building Committee and President, Victoria Sweetman O'Halloran have been invited to attend the stall by NBC. Any questions please email president@manlylsc etc or see the link below
https://yoursay.northernbeaches.nsw.gov.au/Manly_Life_Saving_Club
CLUB CHAPLAIN
We are pleased to announce the appointment of Ken Buckley from Patrol 6 as our club Chaplain. Manly LSC joins over sixty lifesaving clubs around Australia with a Chaplain, including Queenscliff, Freshwater and Bondi. Ken's background is in corporate health and wellness with more recent training as a Sports Chaplain. This is a non-denominational role providing pastoral care and extending the clubs duty of care to members and families.  Over the next few weeks, Ken will introduce himself to each patrol. He can be contacted at chaplain@manlylsc.com or 0418-251-373.
MANLY MERCHANDISE SHOP
Christmas is just around the corner, so why not pop down and purchase some stocking fillers and gifts for Family and Friends from the Manly LSC merchandise shop. We have a great range of towels, hats, costumes and more, there is something for everyone.  The shop is Open Saturday 9:15am – 1:30pm and Sunday 8:00am – 1:30pm
SURF SPORTS
KELLOGS NUTRI GRAIN SERIES AT MANLY
In just over a week (17-18 December) Manly is hosting the next round of the Kellogs Nutrigrain series. All of your favourite athletes including our own Kendrick Louis and former Manly members, Naomi Scott and Emily Doyle will be competing.
On Friday 16th December from 3:45 there is also a pre-event for our Branch Nippers to meet and train with their heros.
Thanks to our Members and Staff who are working hard to make this event a reality and a great pre-Christmas tourism boost for Manly, especially Brucie, Grant Ellison, Glenn Stone, Mel Brock, our IRB and water safety volunteers, BBQ chefs and JAC committee.
BOATS @ MANLY. NEXT STEPS 
Last week was the history lesson, now we look to the future. We want to set up a nice strong foundation for the Manly Boat area and to do this we are looking for social rowers.
Have you never rowed and want to try it? WE WANT YOU.
Have you rowed before and looking at a nice gentle reintroduction? WE WANT YOU.
Are you interested in a great way to get and stay fit and also be part of a team? WE WANT YOU
Want to compete at the highest level in surf boats? WE WANT YOU and can help but we need to walk before we can run!!!
The boat is going out once a week so please get in contact if you would like to join.
The 14th Jan 2023 is likely to be our first come and try day around at Little Manly. Pencil it in. Add it to your NY resolution list and get in touch.
See you soon
Steve (sglydell@gmail.com)
Aaron (0416 197 575)
COLE CLASSIC
Have you entered the Cole Classic yet? If not get in quick and register now as the early bird price is ending on the 12th December. To enter go to https://coleclassic.com.au/
Congratulations to our Cole Classic for bring on some fantastic new sponsors, including Hamilton Island, Speedo and Altis.
UPCOMING EVENTS
December 10th – Central Coast Slam – Avoca Beach
December 11th – Junior Beach Carnival – North Narrabeen
December 11th – MLSC Christmas Party – 2pm onwards
December 17th – Fast Fives Round 4 – Dee Why
December 17th &18th Nutri Grain Iron Series Rounds 1 & 2 @ Manly Beach
December 25th – MLSC Christmas Swim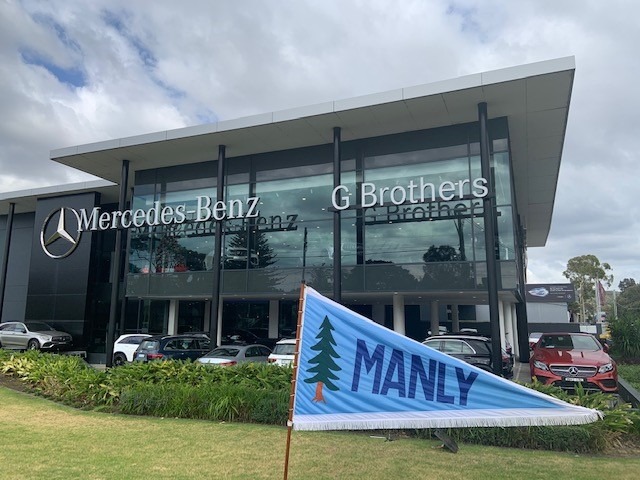 G BROTHERS MERCEDES BENZ AND MANLY PARTNERSHIP