Manly LSC News – January 2017
FROM OUR PRESIDENT
Welcome to 2017 and trust this will be a great year for all. As usual, the Xmas and New Year period was hectic with dangerous seas, big crowds, numerous rescues and countless treatments (sympathy!) for blue-bottle stings.
The next two are going to be just as busy – it will test our core and commitment. In addition to our patrols during this time, we have the carnivals starting with the biggest of them all – Nipper Nat's on January 27, followed by the Manly Open Carnival on Saturday January 28 and then the boat finals on Sunday the 29th. The following Sunday it's all hands on deck and as we partner with Fairfax Media and to provide water safety for the Cole Classic on the morning of Sunday the 5th of February.
Cam Berkman the events organizer will shortly be advertising for maximum support to safely run these events. Help for the Manly carnival will include set up/set down, water safety, BBQ assistance, food preparation, and wait staff at the after carnival party for our VIP's, sponsors, competitors, members and friends. Assistance at the Cole Classic is mostly water safety, so anyone that has a board, ski, fins and a tube are expected to help. Plenty more on this in coming week or two.
Last week the Club hosted for over three mornings the Nick Farr-Jones charity, STAND TALL. A number of disadvantaged teenage boys from tough and difficult backgrounds participated in organized beach, water and education activities. Under 14's nippers, parents and senior members all bonded to make these guys appreciate our special space. Thank you to Annie Gleeson for driving this and Tony Bonner for your support as a mentor and organizer.
In November the club added another sponsor – Miramar Underwriting Agency who specialize in property and liability underwriting.
Also a reminder to please collect your club badge from the bar at Sunday Sundowners or office which is open – Monday to Thursday 9.30 – 2.30pm and Friday 9.30 – 4pm.
Please come and say goodbye to Robyn Smith after the Manly Boat carnival on January 29. Robyn has worked with us for 17 years is leaving Sydney and taking up residence in Lake Macquarie. Thank you Robyn for your dedication, commitment and long hours over the years. Please all welcome Kelly Windsham who has started working in the office Mondays and Wednesdays.
Very happy to say the Manly LSC website has been reconstructed after the old one was hacked. The layout is different as is much of the content.
The plan is to make it as dynamic as possible so the layout and content will evolve. We especially welcome any photos, stories or anecdotes that will help to make it a living thing. Just send it to Kelly at admin@manlylsc.com or messenger, Instagram or facebook her. Special thanks to the designer – Kate Thomas from Splash Public Relations and Kelly Windsham (both nipper parents). Thanks also to our IT team Mat Beymer, Tim Cuthbert and Alex Hill.
Finally, many thanks to Debbie Doyle and her hard working tribe of family members for running the Xmas, Boxing, and New Year's Day BBQ's with close to $4,500 in profits achieved.  All club members are welcome to volunteer for an hour or two at the BBQ over the Australia Day weekend.  Please contact the club in that regard.
Finally, don't forget The Sunday swims. Meet Simone Hill Grout at 10.30am each Sunday at top of ramp. Simone will know who you all are and will handicap you accordingly. All welcome, nippers, juniors and adults.
Merry Xmas and see you @the Sunday swim.
Chris Bell
President
KEEPING THE BEACHES SAFE – CLUB CAPTAINS REPORT
This year every Patrol was on duty at some time over the 4 day Christmas weekend and New Year's long weekend – a massive effort and commitment by club members. And it was busy! The warmer weather brought tourists to the beach by the ferry load, over 3000 on some days. From in front of the club to the crowds swimming off the Corso and north of the pipe we were stretched to the limit. With many members away, Patrols had an average of around 13  members of the 30 or so rostered, so many thanks to those who helped out by doing extra patrols. And a reminder to all, please come to your rostered Patrols and stay in contact with your Captain.  If you do not know your Patrol or your Captain's details, email me ASAP (clubcaptain@manlylsc.com.au).
Patrol 3 members on roaming Patrol near the volleyball nets – our northern post is at the showers.
PATROL ROSTERS 2016/2017
Patrol Member of the Month
The Patrol member of the month is Paul Bailey!  Paul earned his $100 Zeus Balgowlah by doing 5 voluntary Patrols over Xmas as well as 2 last weekend.  If you don't know who Paul is, that's ok, he is pretty easy to spot. When the escalator is running he is standing in the water on the southern flag with a tube or board, assisting swimmers before they get swept off the sandbank.  Thanks for all you do Paul.
Also, don't forget Zeus is also giving all patrolling members a 10% discount off food. To benefit from this discounted offer you will need to collect your unique Manly LSC /Zeus partnership card from Sundowners or from the office.
Bec Crawford
MLSC Club Captain
MAJOR EVENTS
Calling all Volunteers!
The Manly Festival of Surf Sport and the Cole Classic are coming up in just 2-3 weeks, and we need everyone's help!
Friday 27th Jan – Nipper Nats (note, this day is not a public holiday)
Saturday 28th Jan – Manly Open Carnival and Manly Boat Carnival
Sunday 29th Jan – Manly Boat Carnival finals/National Short Course Championships
Sunday 5th Feb – Cole Classic
​For the three days of the festival, we need a wide range of people from early in the morning to mid-afternoon:
​* Set up and pack down
* Food preparation and serving for the officials
* IRB drivers
* First aid
* BBQ wranglers
​* Registration desk managers​
* Parking managers
* General hands on deck
* Both light duties and heavy lifting jobs available
For the Cole Classic, we need every club member to come and do two hours on water safety, either in the water with a tube or on a board. All IRB drivers and crew and our stellar first aid teams will be needed as well, and we will probably run another BBQ.
​This a big event for the Manly Community and it is critical for the club that it all goes smoothly. So we're encouraging you to rope in friends and family as well – you don't need a bronze medallion to set up a tent, cook a BBQ, ​run the rego desk, or help feed the masses! All are welcome – every contribution, no matter how small, will be very welcome.
ACTION! Please email volunteer@manlylsc.com and let us know which days you're able to help out on – noting again that we need every able-bodied member of our club on deck for at least 2hrs of water safety for the Cole Classic!
Cam Berkman
MANLY LSC – NIPPERS
Nippers in December was a lot of fun with the highlight being the annual visit of Santa – quite a spectacle when he ditches the sleigh for the Surfboat, to arrive at Manly Beach to the excited screams of 600 Nippers! Everyone received a gift of a lolly bag and juice from Santa's helpers. I don't know how he fits it all in at this busy time of year.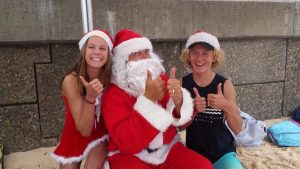 It was also great to see so many Nipper families joining in the Manly Club Christmas Day swim on Christmas morning – perfect conditions and a sunny morning for all our families to swim the course together at the beach before heading off for lunch.
We are now heading towards the serious end of the competition season with the Branch, Nipper Nats and NSW State Championships on the horizon. Summer holiday training is taking place almost every day and we have had a big turn out at the Summer Camp – coached by the regular team and a guest appearance by Ironman Kendrick Louis. There are carnivals taking place every other weekend  over the next 10 weeks and we are looking forward to seeing the hard work and skills improvement paying off. Keep up the good work nippers and coaches!
Andrean Duffy
As a reminder – key dates coming up are
SNB Branch Champs – age groups – Sunday 5th February – venue TBC
NSW State Champs – age groups – Fri 3rd – Sun 5th March – Swansea Belmont
Aussies Youth champs (U14 only) – Sat 25th – Sun 26th March – North Kirra, Gold Coast
COMPETITION – TEAM MANLY


As we turn into the new calendar year, the Competition Team is really pleased with developments to date.
Our surf competitors have been training very hard all through the winter and this has shown with Manly's consistent performance in the Summer of Surf Series which has involved all the elite surf competitors throughout Australia over five rounds to date.  In the most recent Round 5 at Wollongong our team placed strongly in a number of events including:
* Male Taplin Relay 1st , 4th and 10th (#teammanly 2nd in series overall)
* Female Taplin Relay 5th and 7th (4th overall)
* Female Board relay 5th (3rd overall)
* Male Ski relay 2nd (1st overall)
* Female Ski Relay 2nd
* Kendrick Louis 1st Open Ironman (series leader with two 1st's plus a 2nd), 2nd in the Run-swim-run
* Jay Furniss 1st Run-swim run
* Harrison Stone 4th Male Board (2nd in series overall)
* Sam Speer 3rd Male Surf Ski
* Naomi Scott 3rd Female Surf Swim (series leader)
Thanks to all of #teammanly who joined us for Wollongong and featured in the above results including Nic Dawe, Torri Callan, Remi Krenkels, Isabella Kristensen, Grace Gurr, Lachie Bruce and old man Cam Coghlan who has still got it.
Great to see Nathan Smith back in action and Jay and Naomi running freely.
Some U/17s also competed with Thomas Doyle, Emily Doyle, Ryan Singleton, James Curll, Adam Van Haren all performing strongly in both their age groups and in various open events.  Ryan Singleton (a first year 17) who wanted to get on TV was the first swimmer home for Manly in the open swim with a credible 15th – yew Ryan – check him out on foxsports shortly!
After all those events most of the team hard to race back and celebrate the bushrangers' joint 21st birthday party – congratulations to Jon and Brent Kelly on your 21st Birthday!!!
Meanwhile, up the Coast at Wamberal, the U/15s performed very strongly in the Wamberal Ironman event.  Maddie Ward won the girls event and Zac Morris the boys event.  Congratulations also to the team of Georgia Singleton, Kelly Walters and Eliza Curll who won the club a new racing board!
It is great to see we have commenced sprint training with a 12 week program running up to State and Aussies.  We welcome to the fold our strong U/14 male and female teams and Nic Andrews, an excellent U/19 runner. Some Masters runners are joining us too. Remember, it's all about participation and personal bests. Come on down and see how you go.
Many thanks to Tony Tier and Brian Dolly and team for bringing this initiative together – we are confident this new start will lead to great things over the next few years.
We congratulate our hardworking and lovable board coach Mitch Roberts and his partner on the recent birth of their first, a beautiful healthy daughter, Poppy Margaux Roberts. Welcome to the other side Mitch.
Thanks to Glenn Stone for getting all the competitors proficient for carnivals (and to the patient patrol captains).  The Competitors are looking forward to the run into the business end of the season and look forward to meeting lots of #teammanly club supporters over the Australia Day weekend carnivals at Manly and Freshwater.  Come down and join the team. Or else buy a team cap, t-shirt, cossies or towel and support our hardworking competitors.
Matt Curll
Please support our sponsors
We have a number of sponsors who recognise the great work we do in the community and provide us with crucial financial support to help us do our work.  In turn, we ask you to please support all our sponsors.  And tell them you are from Manly Surf Club.
If you have any friends with businesses big or small who might be interested contact mattcurllo@gmail.com for more information.
MANLY LSC – SURF BOATS

MANLY LSC – SHOP

MANLY LSC Shop will now be stocking a range of Kozii Swimwear . Come and discover Kozii Chlorine tough range!